Where drowning is an epidemic, UBC tries "immunization"
November 20, 2013
Drowning is not the same the world over.
In Canada, a typical drowning victim is an adolescent or young adult male who suffers a mishap while swimming or boating. Often, the victim had been drinking.
In Bangladesh, the average age of a drowning victim is 3 years old. In most cases, the young victims were not playing, but simply fell into one of the many bodies of water – some stagnant, others flowing – that cover much of the rural landscape. Often, the only way to navigate around these ponds and streams is on narrow walking paths that fall off sharply on either side. Other times, the most convenient thing to do is to walk across slippery, narrow poles that serve as footbridges.
The death toll from drowning, not surprisingly, is as starkly different in the two countries as the circumstances under which it happens. Two Canadian children per 100,000 die every year from drowning. In Bangladesh, it's 55 per 100,000.
"The drowning fields" – that's how Steve Beerman, a Clinical Associate Professor in the Department of Family Practice, describes it.
To Dr. Beerman, a family physician in Nanaimo, childhood drowning in Bangladesh and other low-income countries is more than a tragedy – it's a public health problem. And he has a plan for cutting the death toll by 50 per cent.
Game-changing ideas
With a $100,000 grant from the federal government's Grand Challenges Canada program, he and his Bangladeshi collaborators will seek to reduce the rate of drowning in one village. If successful, they will seek to scale it up to encompass a large portion of the country.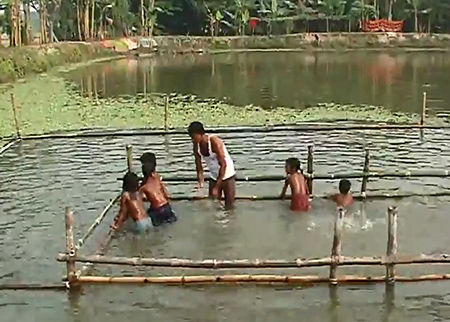 Bangladeshi children learning water survival skills.
Two other Faculty of Medicine affiliates were awarded grants under the program, created in 2010 to foster novel solutions to global health issues in low-income countries:
Andrew Macnab, a Professor in the Department of Pediatrics, along with M. Lynn Stothers, a Professor in the Department of Urologic Sciences, will conduct a pilot study in Uganda of a device that uses near-infrared light to non-invasively diagnose bladder and urinary tract disease. The device, no bigger than a pack of chewing gum, will help health workers decide if a person needs to be referred to a larger medical centre for specialized treatment.
Eiman Zargaran, a UBC surgical resident, and Morad Hameed, an Associate Professor of Surgery, will use electronic health records and tablets for the management of injury victims in a Cape Town hospital.
The three projects were among 83 chosen to receive Phase I, $100,000 grants from Grand Challenges Canada's "Stars in Global Health" program. After a year, they will be eligible to apply for Phase II grants, which can be up to $1 million. The projects, submitted by university researchers, social entrepreneurs, private companies and non-governmental organization, were selected through independent peer review.
"By connecting game-changing ideas with some of the most pressing global health challenges, these projects will lead to sustainable and affordable health solutions in low- and middle-income countries," said the Hon. Christian Paradis, Canadian Minister of International Development and Minister for La Francophonie.
Four decades of drowning prevention
Dr. Beerman, the only family physician who applied in this year's round, has spent four decades preventing deaths in the water.
He was a lifeguard and swimming instructor in the Sunshine Coast town of Powell River, where he saved half a dozen people from drowning.
Steve Beerman
He went on to save more people from drowning as an emergency room physician in Nanaimo. Those experiences led him to question some of the standard protocols of medical care for near-drowning victims at the scene and in hospitals. He began researching the subject, writing articles for medical journals and giving presentations at conferences.
Eventually, he ascended to leadership positions in the field of drowning rescue and prevention – President of the Lifesaving Society of Canada, the scientific chair of the World Water Safety Conference and president of the International Life Saving Federation.
In the process, he came to appreciate the disparities in drowning. In Canada, it's a rare tragedy. But in countries like China, Vietnam, Thailand, the Philippines, and Bangladesh, it's a fact of daily existence and the leading cause of child mortality. Drowning is the main reason that some countries – including Bangladesh – will not meet the United Nations' target of cutting childhood mortality by half by 2015.
"The public health movement has had enormous success in reducing infectious diseases and diarrheal illness in the developing world," says Dr. Beerman, the Site Director for UBC's Family Practice training program at Nanaimo Regional General Hospital. "But as deaths from those ailments declined, it exposed the tremendous toll that drowning continues to take in those countries."
A solution tailored to the culture
As risk-laden as Bangladesh's landscape is, Dr. Beerman and his Bangladeshi collaborators will also be contending with a set of cultural and social challenges, including a deep aversion to going in the water, and a lack of adult supervision of young children during the day.
Scafflold-like structures made of bamboo will be mounted along the edges of ponds so that children will learn to swim in the water they skirt every day – not in a pool, which is regarded as a Western luxury item.
They will be taught basic survival skills – how to keep their heads above water for 30 seconds, how to propel themselves 10 metres, how to upright themselves – in three half-hour classes, eight kids at a time.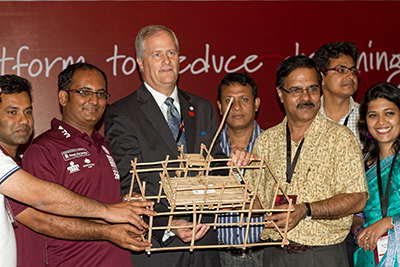 Steve Beerman (centre) and Bangladeshi collaborators show off a model of the bamboo support structures that will be used for water survival instruction.
Dr. Beerman hopes these lessons will reach 1,000 children between ages 6 and 14, and that the survival skills might spread to their peers – what public health experts call "herd immunity."
"We believe this is an immunization against drowning for life," Dr. Beerman says.
Incubating a culture of watchfulness
For children too young for those lessons, the project has another major component: creating a system of backyard day care centres, enrolling 1,000 one- to five-year-olds six mornings a week.
Being kept under the watchful eye of an adult, in a secure, fenced-in area and away from the ponds for a large part of the day would be a dramatic change for most children – and, Dr. Beerman believes, would dramatically reduce their contact with the ponds, as well as other potential hazards, such as poisons or downed electrical wires. The grandmothers enlisted as day care centre operators would be taught about safety and child protection.
"The thing that binds both of these arms together is enhanced safety awareness," Dr. Beerman says.
The team also will raise awareness about safety by convening village meetings after each drowning, facilitated by a doctor, to discuss why it happened and how it could have been prevented. The meetings will be held in the evenings, Dr. Beerman says, because in Bangladesh's patriarchal culture, men have disproportionate influence to make changes.
"This is the way Bangladeshis share knowledge," Dr. Beerman says. "But delving into this issue, in this forum, will be an interesting cultural shift for them. Drowning deaths are rarely reported to civic authorities due to a number of local cultural issues and a lack of death registry. So discussing child drowning deaths will be an exercise in community trust."